Top International Exposure
In an increasingly globalised world our students are provided many unique opportunities to nurture their talent to enable them compete with the best Internationally. Some of our activities International immersion activities include: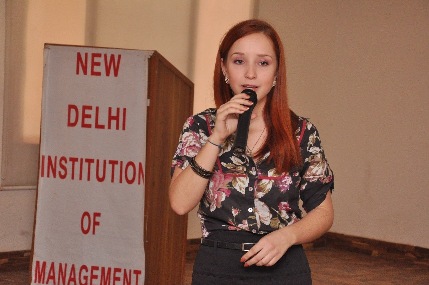 Workshop by Prof. Faulker of University of Oxford-U.K
International Internships & Placements
80+ International projects of 6-8 weeks offered to our students across Russia, China, South Africa, Netherlands, Philippines, Indonesia, Vietnam, Taiwan & Kenya including 15 by PWC Egypt. Our students have also attained international full time placements with leading MNCs in UAE & Nigeria
Regular Interaction with Professors from foreign Universities
Workshops and lectures by Professors of International repute are regularly organised for our students. Some of the professors/workshops include: • Workshop by Disney Institute, USA • Workshop by Prof Faulker, Magna Carta, Oxford, UK • Lecture by Dr Pradetto, HS University, Germany • Lecture by Dr Kriz, Univ of Applied Sciences, Austria • Lecture by Dr Mittal, Rice University, USA
MOUs with International Universities
We have entered into Students and Faculty exchange agreements with leading Universities in Spain, France and UK.Our next batch of students are scheduled to depart for an exchange programme with Magna Carta College, Oxford, UK in August 2013.