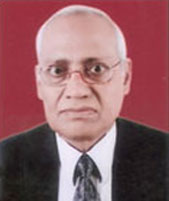 Dr. S.R. Arora
Ex-Principal, Hans Raj College, Delhi University

Ph.D. (Delhi University), M.Sc. (Maths), B.Sc. (Maths)
It gives me immense pleasure to introduce you to the vibrant, enthusiastic and wonderful community at the New Delhi Institution of Management. Our students come from diverse backgrounds but collectively share one goal i.e to become world class business managers.
We, at the Institution believe in the motto 'It does not matter where you come from, it matters what you can become'. This is best symbolized by the Lotus, the seat of the creator and a symbol of wisdom, prosperity and infinite reality. It is our vision to create a world class Institution that empowers individuals to manage change and effectively grow and realize their full potential in a globally competitive and multi cultural socio-economic environment.

In order to help our students achieve their true managerial potential, we have a strong focus on academics. Our curriculum is updated frequently for latest trends & research and delivered by highly acclaimed faculty with substantial academic and industry experience.

However, our mission is to develop our students' overall managerial abilities. Therefore, our campus also provides the unique opportunity to participate in various extra curricular activities as well as identify and execute other initiatives that the students deem important for their growth. Additionally, our Corporate Resource Center works closely with the students to prepare them for the Industry by identifying areas for development and addressing them through various initiatives such as personality development, business communication, promoting industry awareness, career counseling, etc.

I am confident that our students will be fully trained during their stay at the Institution and emerge as successful professionals and business leaders to cater to the increasing requirements of the fast changing global business environment.

I thank you for taking the time to learn more about our Institution and welcome you to visit and explore this culturally rich and dynamic community committed to learning and growth with an underlying sense of uncompromised professionalism.